Nihonbashi East Muromachi Area Redevelopment Project
While making people feel a sprit of new era, remains the history feels the sprit of Edo Culture
Starting with the Nihonbashi 1-chome Building and the Nihonbashi Mitsui Tower, Nihon Sekkei has been deeply involved with the revitalization of Nihonbashi, which has driven it to be continuously reinvented.
"Nihonbashi East Muromachi Area Redevelopment Project (Muromachi-Higashi Mitsui Building, Muromachi Furukawa Mitsui Building, Muromachi Chibagin Mitsui Building, Fukutoku Garden)" is located at the very center of the Nihonbashi Future Map. The project utilizes the Urban Revitalization Special Designation Area scheme and envisions building on the historical legacies of Nihonbashi. It closely knits several city blocks into the existing urban context.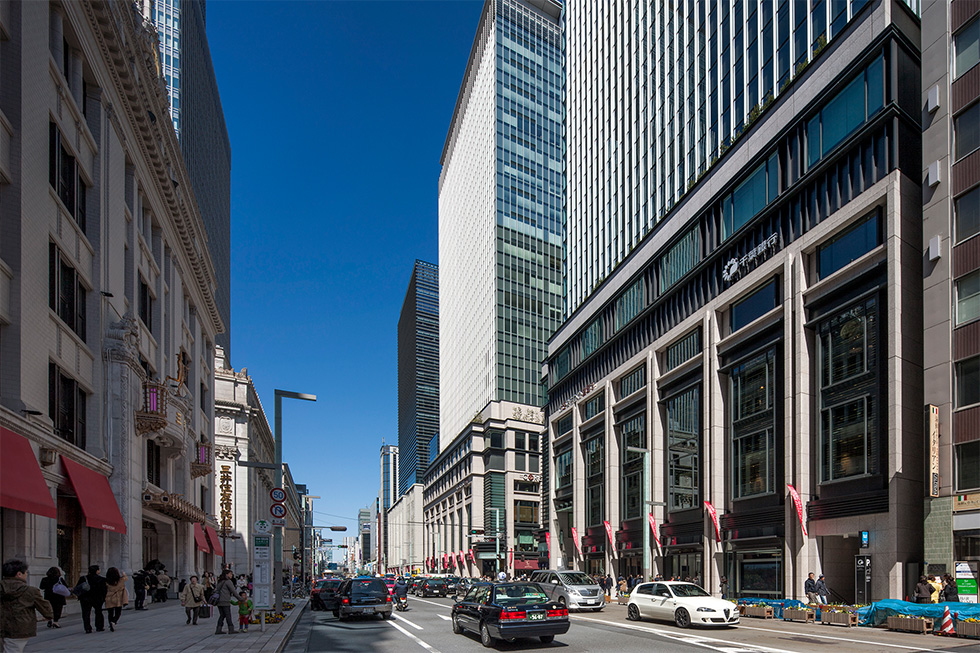 Chuodori St.: Uniform Streetscape Created by 100 Feet (31meter) Skyline (photo/Kawasumi・Kobayashi Kenji Photograph Office)
Regenerating Distinct & Attractive Cityscape
Chuodori St. is designed as a grand boulevard with a historically significant
and unified cityscape, including Mitsui Main Building, a designated Important Cultural Asset. Unified expressions at 27 meters eave line and 6 meters eye level form a unified view recalling London's Regent Street, but new to Tokyo. The expressions of 6 meter spans colonnade on the podium also impart a classical atmosphere while carefully allowing interior activities to di use outwards.
Edozakuradori St. also supports a unified cityscape formed by the Bank of Japan and the Nihonbashi Mitsukoshi main store, both designated Important Cultural Assets, and is lined by a row of cherry trees (sakura) on both sides. The intersection with Chuodori St. is defined as a crossroad with the buildings as a gateway that invites foot tra c to explore the existing retail enclaves.
Nakadori St. is imbued with a narrow "Roji" feel, integrated by facades inspired from vertical wood grills, eaves set at 2.5 meters and lighting reminiscent of old lanterns to reinforce the human scale and Kyoto-like atmosphere of the old established shops. The atmosphere is further reinforced by the stone-pavement interposed with recycled tramway paving stones. The vibrant activity on this street is a collaboration between visitors and the local community.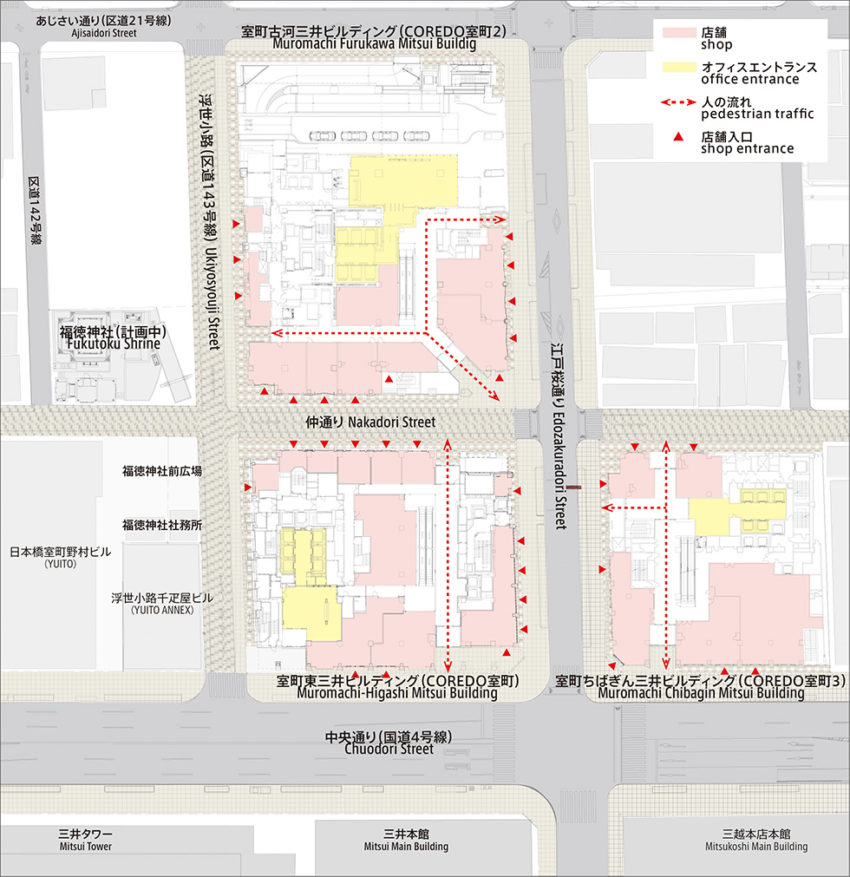 Site Plan & 1st Floor Plan

"Andon" Footlights Enhance Nakadori Street which Connects Fukutoku Shrine and the Old Established Shops (photo/Kawasumi・Kobayashi Kenji Photograph Office)
Design Solutions for Active Networks
Each building has a pedestrian thoroughfare passing thorough the first floor shops, inviting pedestrian traffic connecting Chuodori St. to Nakadori St..
An underground passage and square on the first floor basement level is constructed under Chuodori, Edozakuradori and Nakadori St., well connected with the building basements and forming a continuous commercial experience from the Mitsukoshi-Mae subway station. The depth of space felt throughout the concourse and building passages creates a vibrant retail oriented underground network.
The underground square is a ward administered pedestrian way capable of hosting various public events and equipped with full safety and fire systems according to Building Law regulations. In addition to functioning as a public space fronting the subway station, it is planned to be a temporary shelter in the event of disasters and is expected to have many more undiscovered functions in the future.
Vehicular entrance to the underground parking is collected at a single entry to maintain separation from the pedestrian and vehicular traffic above ground, contributing to the "Roji" atmosphere.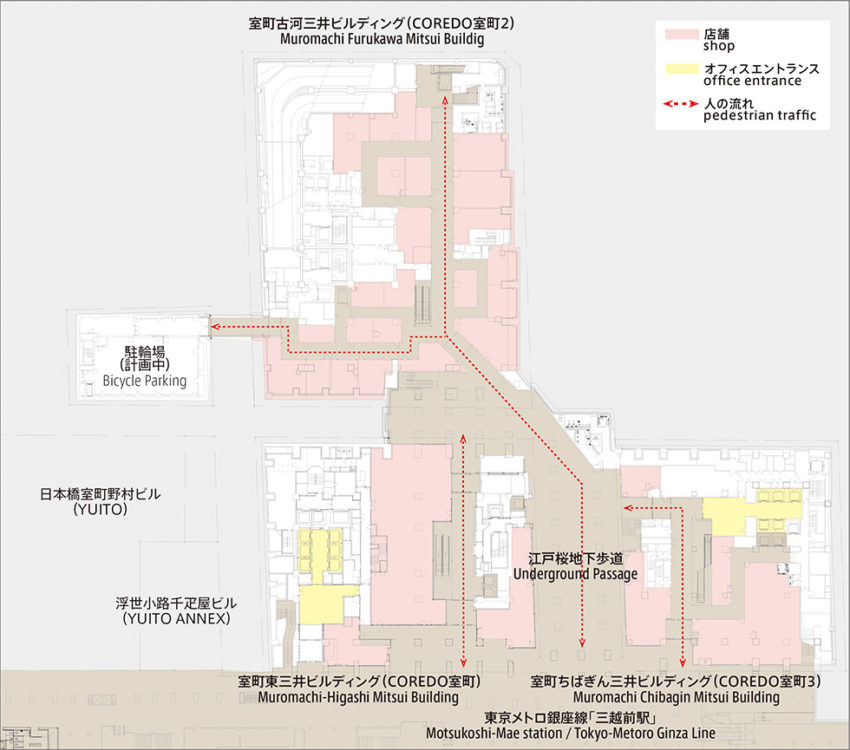 1st Basement Floor Plan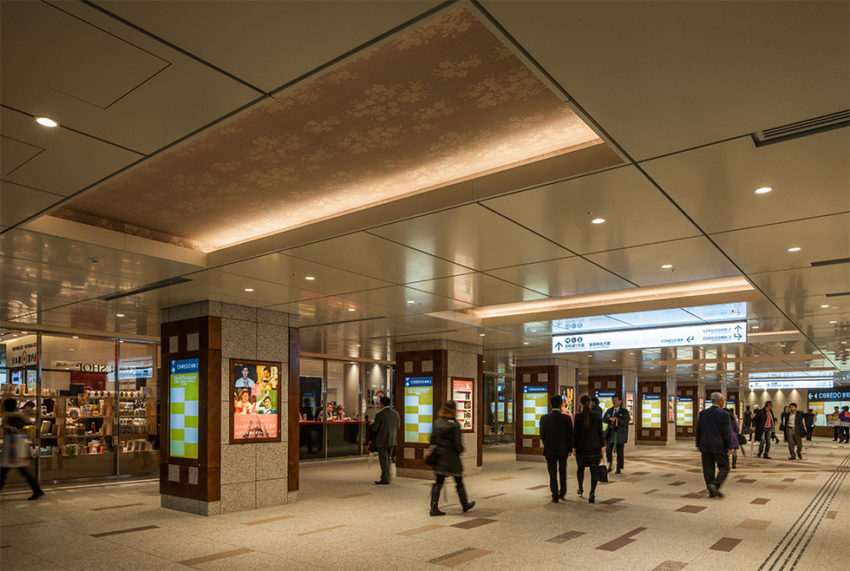 Vibrant Underground Network Direct from the Subway Station (photo/Kawasumi・Kobayashi Kenji Photograph Office)