Sapporo Mitsui JP Building, Sapporo Kita3-jo Plaza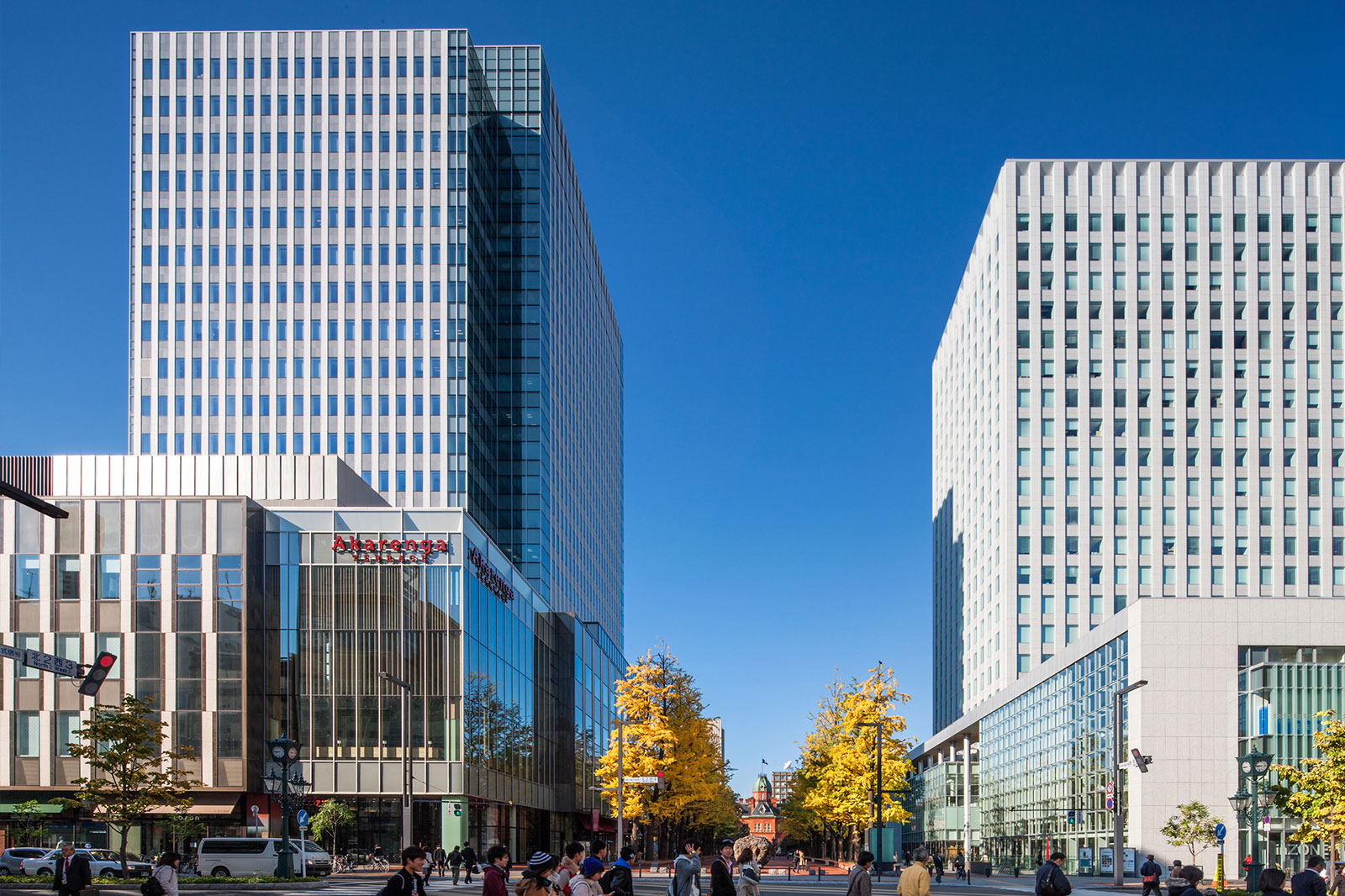 Sapporo Mitsui JP Building and Sapporo Kita 3-jo Square (Akapura)
JP Building from Akapura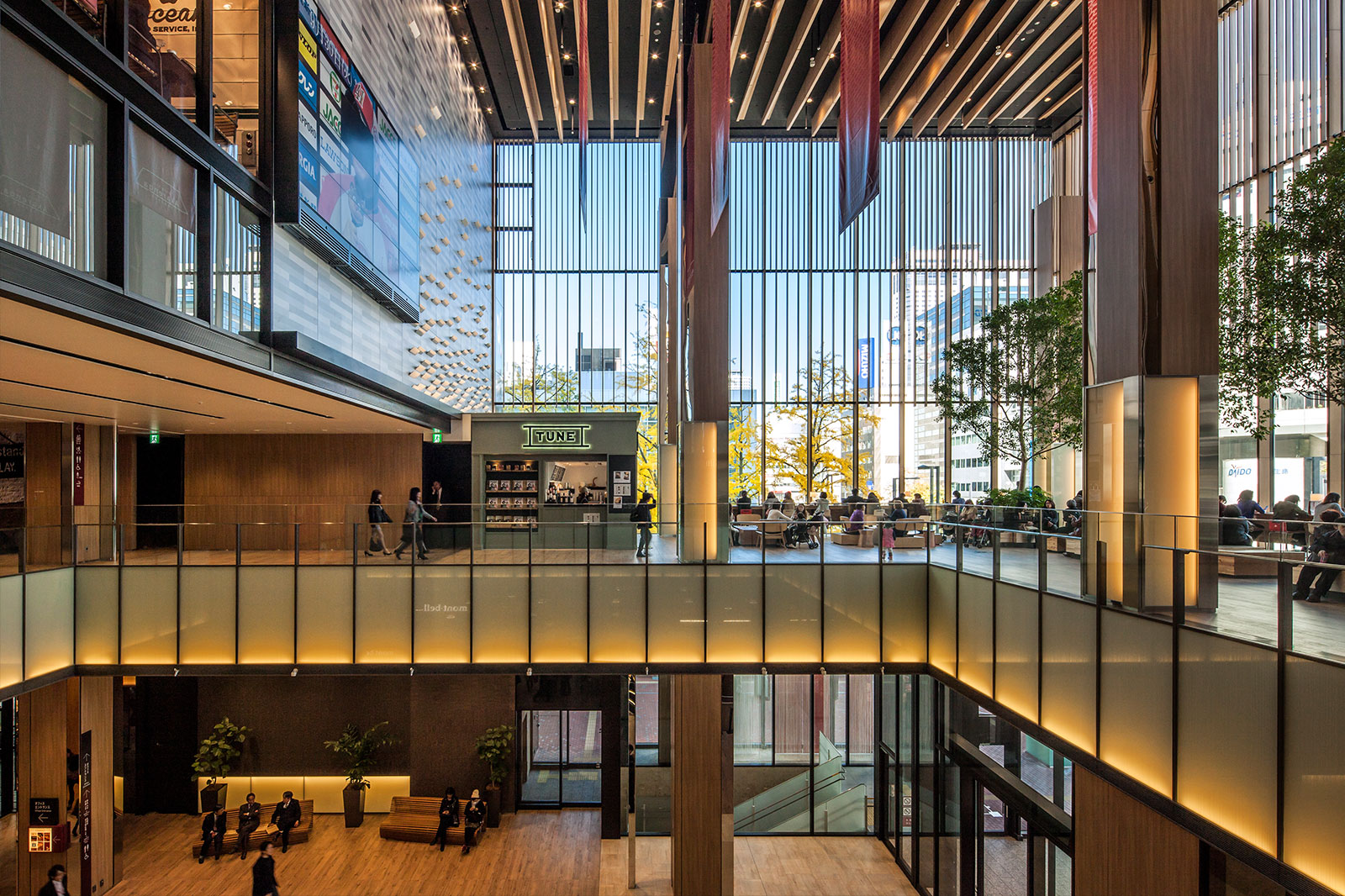 2nd Floor Atrium Terrace
Akapura seen from Atrium Terrace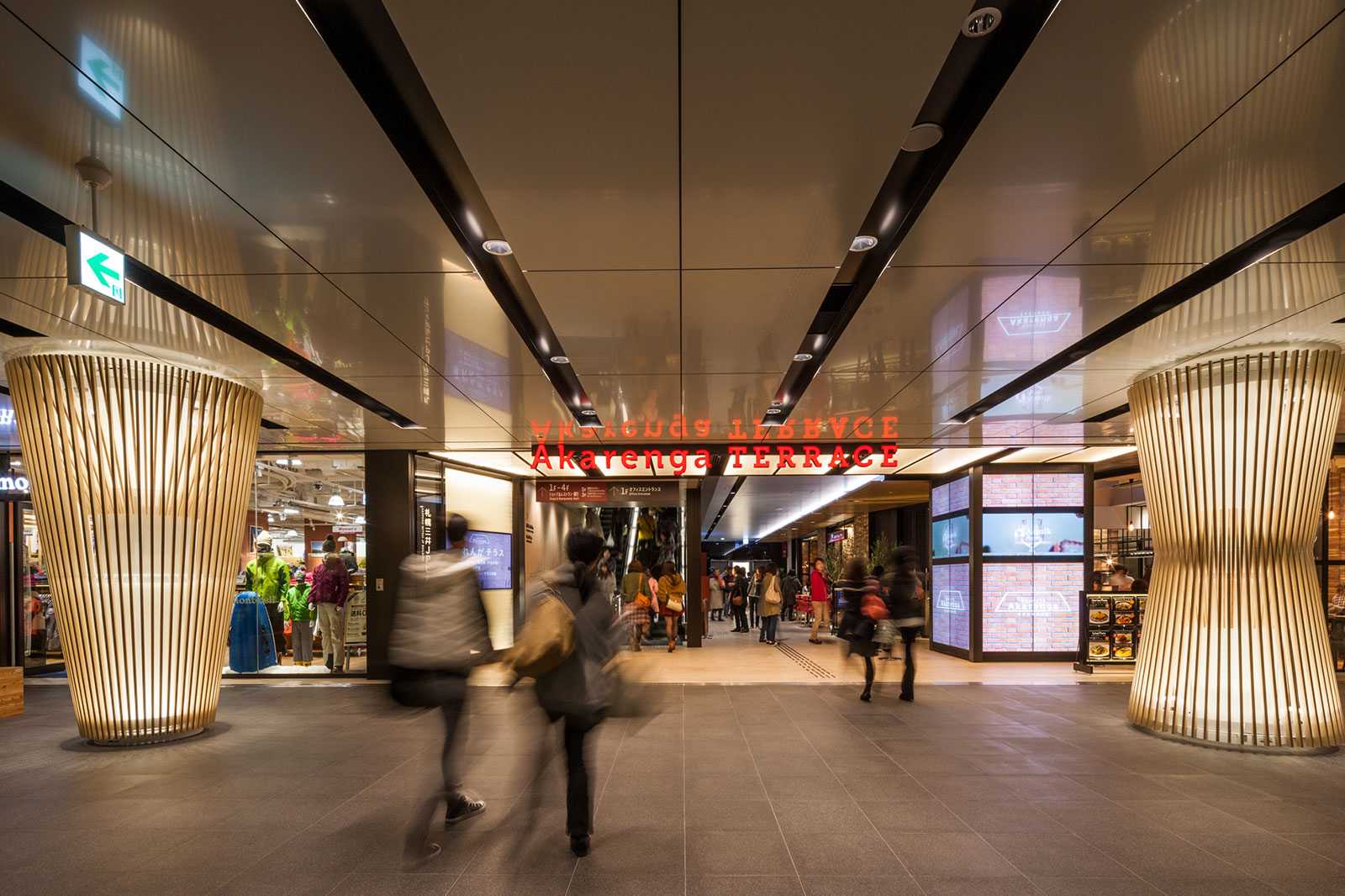 Connection to underground pedestrian passage (Chi/Ka/Ho)
Sapporo Mitsui JP Bldg. and Hokkaido Provincial Government Red Brick Bldg.
Concept
THE JP Tower is located in front of the Hokkaido Government Building, "Red Bricks" and is the leading project for the community building in this district.
The site combines the old Sapporo Mitsui Building and JP Group Sapporo Building sites under the Urban Renewal Special District framework to rebuild the former and renovate the latter while bequeathing a public square facing the Kita-3-Jo Street, the "Sapporo North 3 Jo Square (Akapura)".

The Ginkgo Tree lined street and wood block paving, designated as Engineering Heritage were carefully considered into the planning for Akapura to create a symbolic vista encompassing the Red Bricks andn also providing an urban square for events that heighten the vibrancy and give repose to the community.
The Sapporo Mitsui JP Building has been designed for the northern climate of Hokkaido boasts a complete connection with the underground pedestrian passageway Chi/Ka/Ho and seamless continuity of the exterior spaces with Akapura to provide easy access in any season.
The indoor Atrium facing out to the crossing of the Station Street and North 3-Jo Street, the north-south corridor connecting the neighboring blocks and the Observation Terrace with vistas over Red Bricks building, are all designed to connect the community, people and history.
Facts
Project Name
Sapporo Mitsui JP Building, Sapporo Kita3-jo Plaza
Client
Mitsui Fudosan
Japan Post
Location
4-1, Kita 2 Jonishi, Chuo-ku, Sapporo-shi, Hokkaido, Japan
Major Use
Office, Commercial, Parking, District Heating and Cooling System, Reuse of Waste Water Treatment Facility
Structure
S, RC, SRC, CFT
Structural Control Dampers
Notes
Design Partner/Kajima Corporation
Façade Design/Architectship + Suzukimakoto Atelier
Commercial Design/Studio Taku Shimizu
Landscape Design/ earthscape
Photo Credit
Kawasumi・Kobayashi Kenji Photograph Office
Niitsu photograph
Awards
2017 Civil Engineering Design Prize
2016 BCS Award
2016 The City Planning Institute of Japan Award
2016 Environmental and Equipment Design Award
2016 Hokkaido Red Brick Architectural Award
2015 Good Design Award
2015 Grand Prize of Cityscape
2015 Good Lighting Award