THE JOURNEY
The Story of Our 50 Years
8.

The Future Vision of "Environment"
We Started With High-Rise Buildings
Incorporating environmental design such as total management of energy and controlling temperature, light and wind in architectural design and urban planning is essential issue. These are performed by environmental engineers. They propose a comprehensive energy circulation system from air conditioning, electricity and lighting to construction of urban environmental control system with comfort and safe and realize with unique ideas and state-of-the-art technology. Our environmental engineering began with controlling environmental performance of skyscraper. It was a big challenge that no one had ever experienced yet at that time to create technology to cover the entire skyscraper with large capacity by limited energy sources and space. However, solving those problem became a valuable foundation of our environmental engineering afterwards.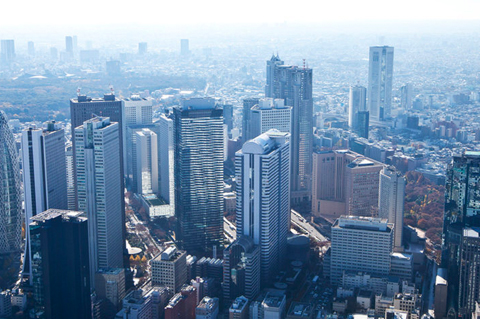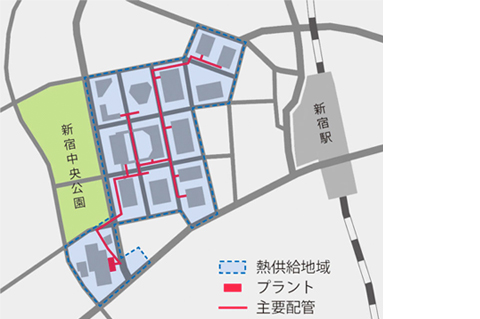 From "Energy Reduction" to "Energy Production"
After the first Oil Crisis of 1973 and the second Oil Crisis of 1979, the global environmental problems have begun to draw attention since beginning of the 1980s. And we came across disaster by the Great East Japan Earthquake in 2011. Depending on each era, the needs for environmental engineering, such as energy saving, cost reduction or environmentally friendly design, have been changing from time to time. In Shinagawa Intercity completed in 1998, we introduced cogeneration system that reuses waste heat, and at the same time, created an area where multiple buildings exchange energy to each other according to difference of energy consumption between day and night. In Itoman City Hall completed in 2002, we created energy by covering the entire building with a huge louver incorporating solar power generation panels, taking advantage of the climate of Okinawa. This was a prototype that realized not only energy-saving building but also energy-creation architecture.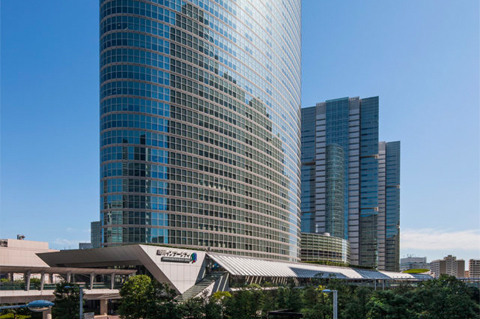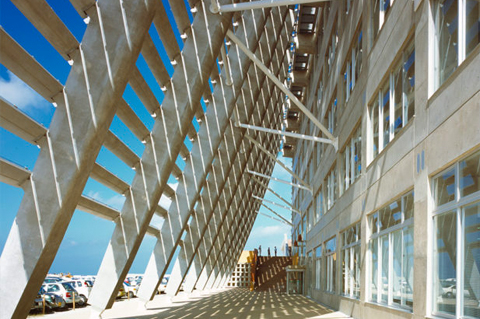 Environmental Engineering Closely Engaged With the Community
In Japan, after experience of the earthquake, awareness on the effective use of renewable energy became a fundamental subject to be concerned. Unnan City Hall in Shimane prefecture completed in 2015, we realized a green architecture that takes advantage of the rich blessings of the local forest and river. There, we adopted biomass energy using wood chips from forests and used groundwater as heat source. Furthermore, we made it possible to save energy and reduce environmental load by pouring groundwater on the glass surface of the large exterior wall. The environmental engineering concept and idea which utilize the surrounding environment through corporation with local people and beyond considering self-contained architecture produced new pioneering business.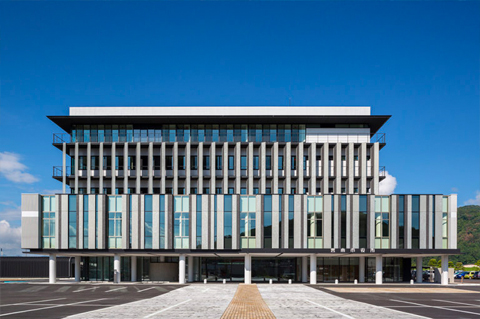 Always Responsive to Society's Needs
From now on, we would like to propose a new future image of the urban core area by integrating town planning and energy policy. Sharing energy not only by an area but by a city and realizing efficient energy supply in accordance with the power and thermal demands of each building and area would contribute not only optimizing energy efficiency in a city but also minimizing environment impact such as drastic CO2 reduction. To do so, it is indispensable to collaborate with government and electricity and gas suppliers. And in case of installing an energy plant in the city cooperation with private enterprises and residents is also necessary. It is our business to coordinate the whole among these stakeholders. And now we, appointed by Sapporo City, are investigating optimization of energy use in the city as a unit. Technology and skills on coordination of environmental engineers who constantly had responded to the needs of society by anticipating the times and facing various environments has been handed down from generation to generation as our irreplaceable asset.