Community Development of Higashi Gotanda
Challenging: "Comprehensive Community Development"
Higashi Gotanda spreads over 29 hectares between Osaki and Gotanda Stations and was designated as a new subcenter along with Shinjuku, Shibuya and Ikebukuro in the Tokyo's Long Term Vision of 1982, leading to rapid land use conversion of small factories. After a series of planning initiatives and organizational developments, designation of the area as "Area for Urgent City Renewal", set in motion the 2002 "City Renewal Vision: A Community for a diverse population to live, work, study and enjoy life, while continuing as a center for leading manufacturing enterprises", which was implemented in stages with the close cooperation of citizens and local government.
Nihon Sekkei was involved from the formulation of basic development rules such as the District Renewal Plan and Vision for Urban Regeneration. It then undertook the design for "Oval Court Osaki", the Lead-off Project, "Osaki Art Village", a pioneering project for the multi-level pedestrian deck network connecting Osaki Station to the sites, "Tokyo Southern Garden", which realized the Meguro River Water Park, the Wide Area Map of Parkcity Osaki and finally, "Parkcity Osaki", inaugurated in June 2015.
Nihon Sekkei will continue responding the both requirements from government and private sectors with the confidence gained from practices to design.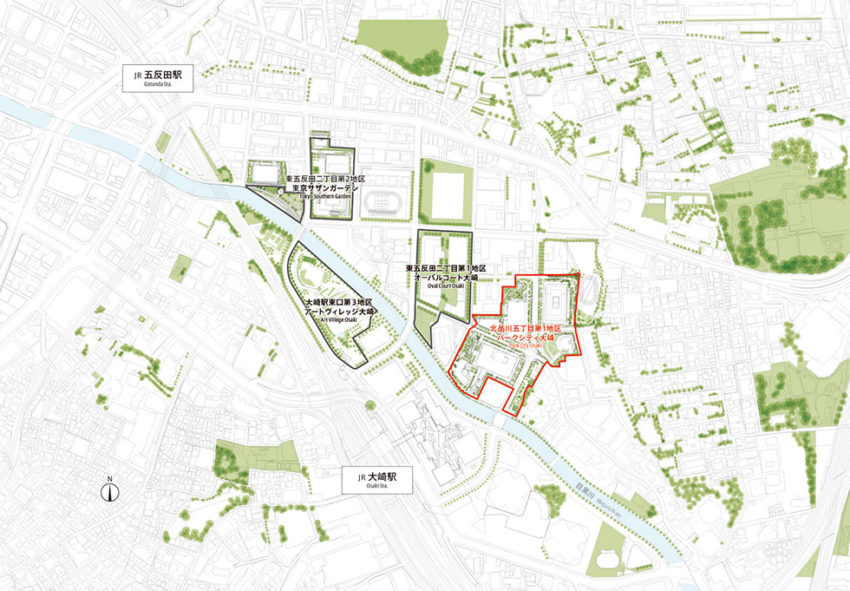 Wide Area Map of Park City Osaki
Environmentally Conscious Development for a better environment, life and industry
Park City Osaki is the largest development in Higashi Gotanda Area at 3.6hectares. It is a multi-functional complex of infrastructure facilities, offices, residential units and community facilities. The huge scale was utilized to the maximum, which allowed the design of facilities facing outward and open to the surrounding community within an environmentally conscious urban design. Additionally, the urban infrastructure outside of the site area to promote land use conversion of surrounding districts, the flow convergence facilities for Meguro River to improve the water quality and the industry support facility were also implemented. The industry support facility called Shinagawa Industrial Platform or SHIP and the Osaki Bright Core Hall seminar facilities are intended to become the Tokyo center for leading firms in new industries and services, available for use by domestic and foreign creators, venture firms or any company in search of entrepreneurial information or the next big idea. The Park City project spans 5 city blocks, with flexibly set floor area ratios allowing diverse urban spaces and a luxuriant, pleasant walking experience in a vibrant urban environment. These additional works and environmentally conscious endeavors work together as a whole to create communities that are "fun to live, fun to work and fun to visit", enhancing the attraction of Higashi-Gotanda area and enable its transformation into Tokyo subcenter with global actives.