Work Life Style in the Post COVID-19 Era

There are no universal work styles. Nihon Sekkei believes workstyles change fluidly, as each company seeks the best fit in each era. This article introduces the studies of Post COVID-19 Work-Life Style.


1.What is Work-Life Style
The relationship of workstyle and lifestyle has changed. Many companies implemented remote work in response to COVID-19 and associated government-issued stay-at-home requests. It is no longer a matter of balancing home life and work life but how to succeed when these two activities are entangled. All employees at Nihon Sekkei have primarily been working from home for over five months, since January 2020.
By collecting the employees' feedback from the remote work experiences, revision of the work and place has been take to maximize the synergetic effects of a coherent "Work-Life Style," which allows an individual to select the best suited time and place for a specific activity.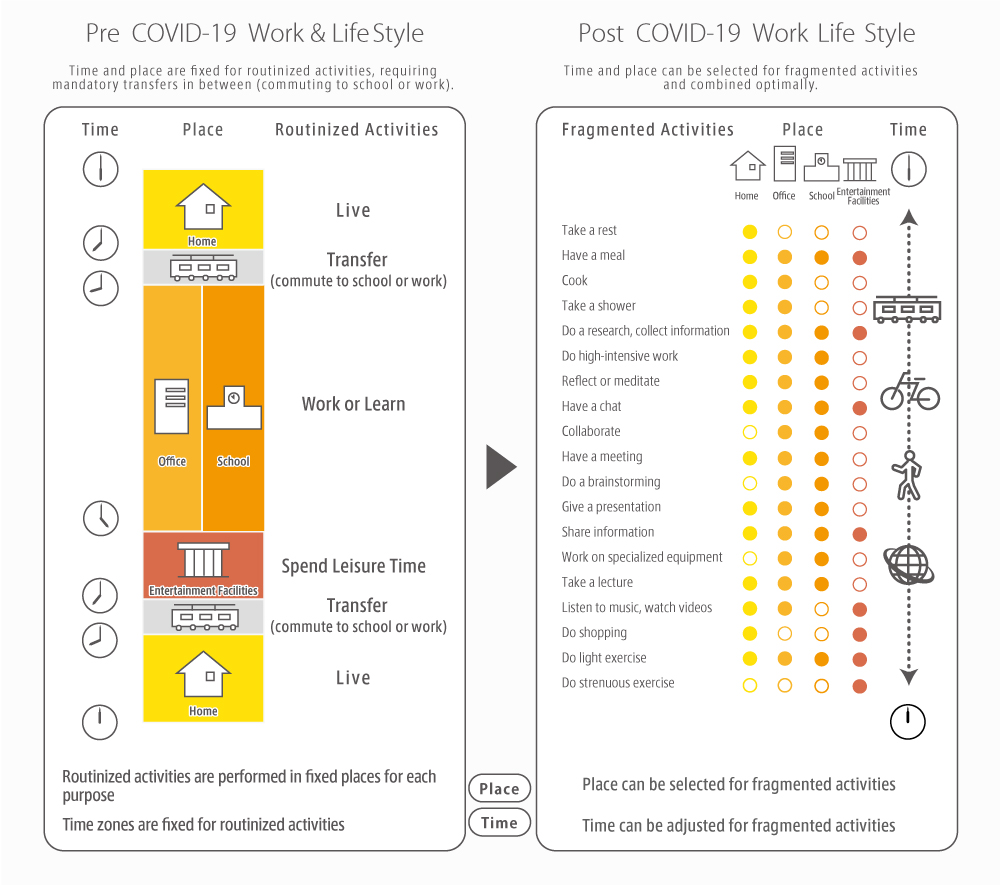 Aiming to establish this "Work-Life Style" as a standard practice for the next era, Nihon Sekkei started to search the adaptive method for involved projects, and as well as to develop the thoughts for the buildings and cities of the future. The following chapters of this article illustrate how Nihon Sekkei responded to COVID-19 in four phases: "Pre", "Emergency (under the state of emergency)", "With (before the development of effective treatment)" and "Post (after the development of effective treatment)."
2.Experience at NIHON SEKKEI SHANGHAI OFFICE Initial Response to "Emergency" and new lifestyle "With" COVID-19

Nihon Sekkei's affiliated company in Shanghai faced unprecedented cases of infectious diseases in January 2020. The virus's presence in Shanghai preceded the first appearance in Japan by a little over two months. The procedures for the Shanghai office to transition to teleworking from home became a precursor for a countermeasure plan at Nihon Sekkei's offices in Japan. To start working from home, an overwhelming amount of issues needed to be resolved, such as the server security and infection risks related to transportation of IT equipment. While incoming projects were postponed, the company had to maintain timely correspondences for ongoing projects via social networks and teleconferencing. The offices in Japan were able to immediately implement concrete measures for remote work after the Tokyo Metropolitan government declared the "Emergency" phase in late March. After the Chinese government lowered the alert level in early March, the Shanghai office began planning for a safe working arrangement for its employees.
Strict mandates were put in place by the building management such as temperature screening, face masks, tenant IDs and QR code indicating a person's health status according to one of three levels. Before resuming its in-office operation, the Shanghai office took several steps to ensure its employees' safety. Hiring professional services, the entire office space was sterilized and equipped with essential hygiene tools such as disinfectant, temperature sensors and face masks. In order to reduce the space's occupancy level, the usage of shared space and work shifts were revised to reflect appropriate social-distances. Online communication became a new standard to reduce the risk of infection from moving between rooms. By the end of March, the office has resumed work with new work shifts and off-peak commuting. In April, paused projects were up and running again. Presentation styles were changed to better suit for teleconferencing. The project outlines were presented in video format and separate data lines were set up to increase band width and minimize interruption. In drawing up a new work plan for the era of life "With" COVID-19, the offices in Japan referred to the measures that the Shanghai office had implemented.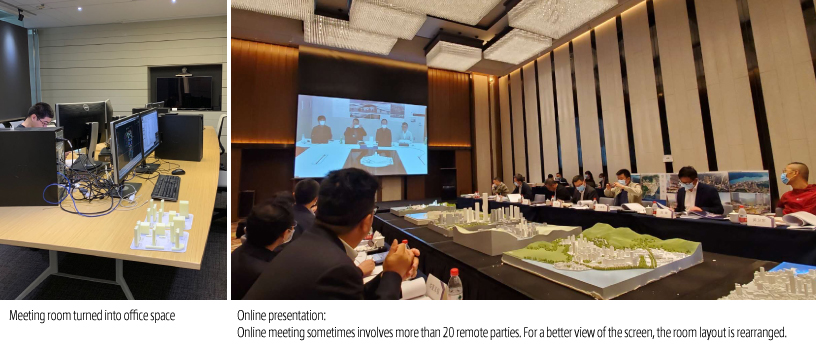 On the other hand, the city of Shanghai issued administrative guidance over the office building's central air-conditioning system. The building suspended the air-conditioning due to the risk of spreading the virus via the system's air ducts. The office had to deal with cold in March and heat in May. Ventilation of high-rise buildings needs to be reevaluated. As reported in the previous article of this series, Nihon Sekkei is exploring the future of the HVAC system in both countries.
From the Shanghai Office's experience facing these issues, infectious disease control is now added to the Business Continuity Plan (BCP) of all Nihon Sekkei's projects in China, amid a global atmosphere that a re-evaluation of offices and work styles are underway.
3.Learning from Pre-COVID-19 and applying it to "Post" phase: Hints from Nihon Sekkei's past projects

The pre-COVID-19 era saw an increase in the numbers of workers practicing new workstyles that were not fixed to a particular place. They transitioned from an office to a co-working space, from a personal desk PC to a mobile laptop PC, and from indoor to outdoor. During the "Emergency" phase, the shared office model including free address workspace became less popular due to concerns over the infection risks. After the country entered the "With" phase, the model had to reassure workers with frequent workplace sterilization. However, as vaccines or other effective medicines will eventually enable people to resume work with more practical distancing, installing opportunity of "third place" work environment with good ventilation would be an effective strategy in the spatial design of the post-COVID-19 era.
Nihon Sekkei is preparing for the "Post" phase using AI, IoT and big data. It is essential to manage an office environment and occupancy level. To establish a coherent "Work-Life Style," it is also critical to set up a multipurpose space and flexible scheduling. One way to achieve the goal is to utilize lobby and common spaces with even outdoor nature itself to manage total Work-Life Space design.
Some past projects provide prescient for alternative working spaces and are equipped with spatial elements adaptable to the post-COVID-19 environment.
For example,
-   A green plaza at the footprint of a high-rise office building for workers' recreation and relaxation
-   Indoor and outdoor Third Places added to a lobby space of an existing high-rise building
-   Indoor Third Place along an arcade at podium of a large-scale office building
-   Stairs and atriums in common and private spaces of office floors to encourage chance encounters
–   A certified HQ office design of Smart Wellness Office (SASBEE-SWO) in a rental property.
-   Green terraces and balconies at private office space.
Nihon Sekkei will keep contributing to the past projects to share the importance of updating the use of existing spaces to meet the next era's needs.
4.Post-COVID-19: A new "Work-Life" Style


Seeking the best way to transform the current urban structure from a city/suburb model to networks of self-sustaining communities. Challenging to bring out or share employees' tacit knowledge in an existing workplace environment and through a conventional style of meeting via network. Providing opportunities of communing to enhance the value of time. Designing a versatile space of personal time and work time at home.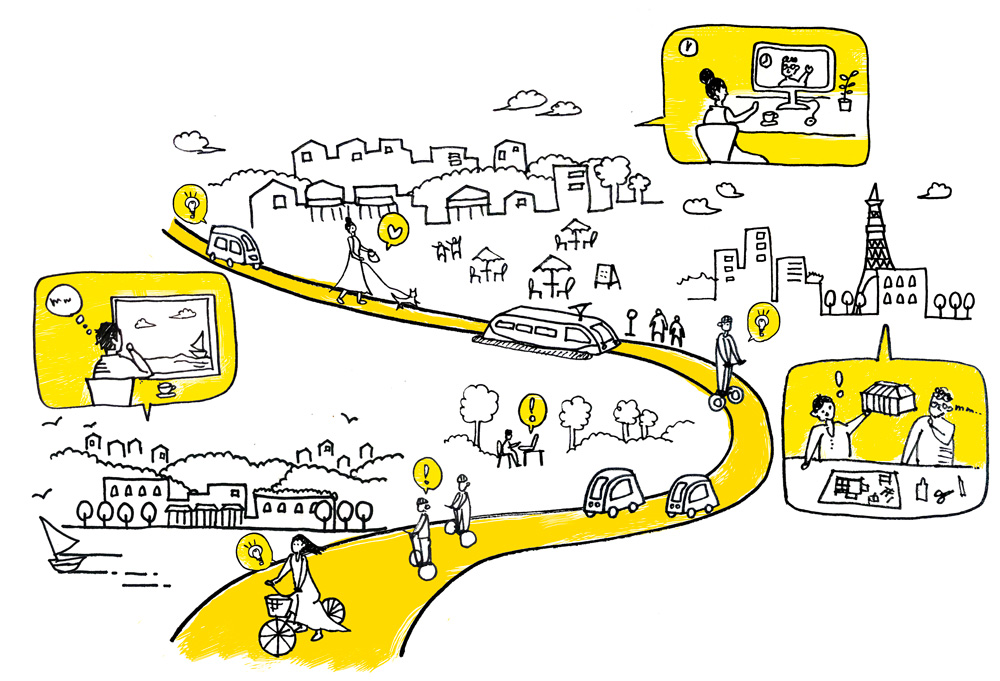 It is crucial to reexamine the basis of the conventional form of architecture and urbanism during the "With" phase and reconstruct them as needed for the "Post" phase. Time and place, daily life and work time, city and architecture; all of these comprehensive relationships will be reconsidered to propose the best solution in every Work-Life Style.
The COVID-19 pandemic provided an opportunity for many to reconsider ways of working and their workplace. Creating value by design team is the Nihon Sekkei's work style since establishment. And now facing the challenge of how it can be continued in the "With" and "Post" phase. The dynamically shifting team member for every unique projects in Nihon Sekkei requires the adaptable work place with awareness of Work-Life style.
The Team-Driven Workplace (TDW) is a concept that Nihon Sekkei developed in response to the challenge. TDW is flexible in terms of time and location to conduct work and accommodates workers to perform effectively as a team with sharing and enhancing tacit knowledge.
Unless companies change their office environment, it will be difficult to continue their businesses when another pandemic emerges. Rather than going back to "Pre" COVID-19 modes of working, Nihon Sekkei has chosen to learn from this experience and develop and propose a new Work-Life Style for the future.