NEXUS HAYAMA(Daiichi Sankyo)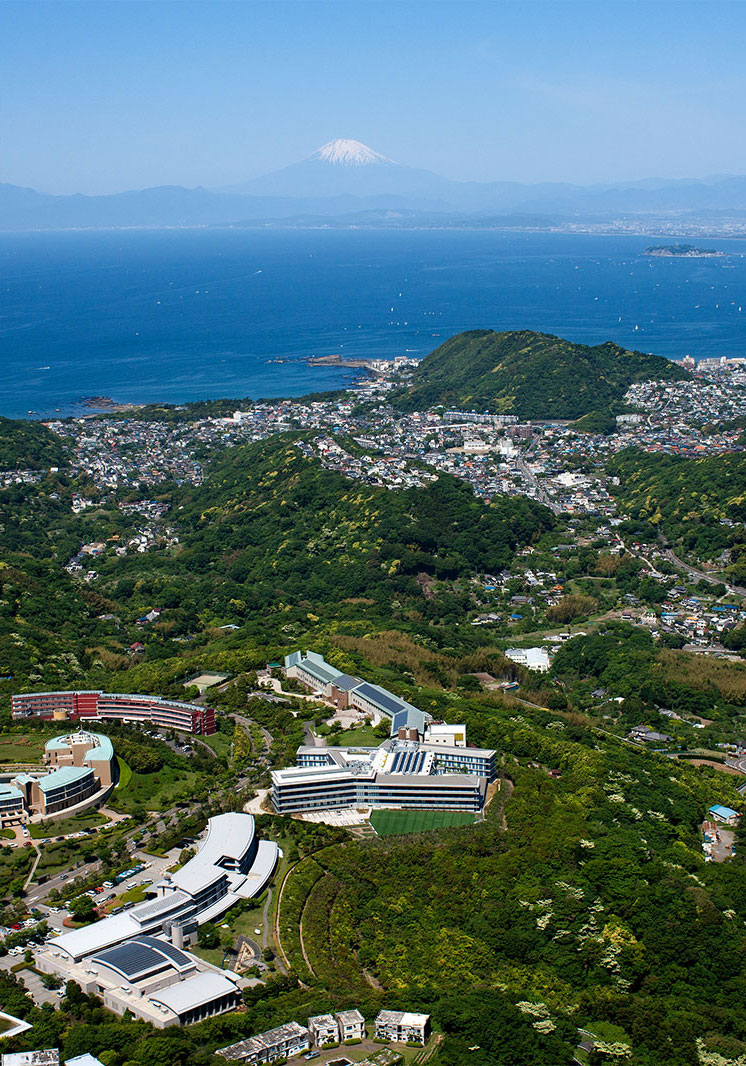 Location facing Mount Fuji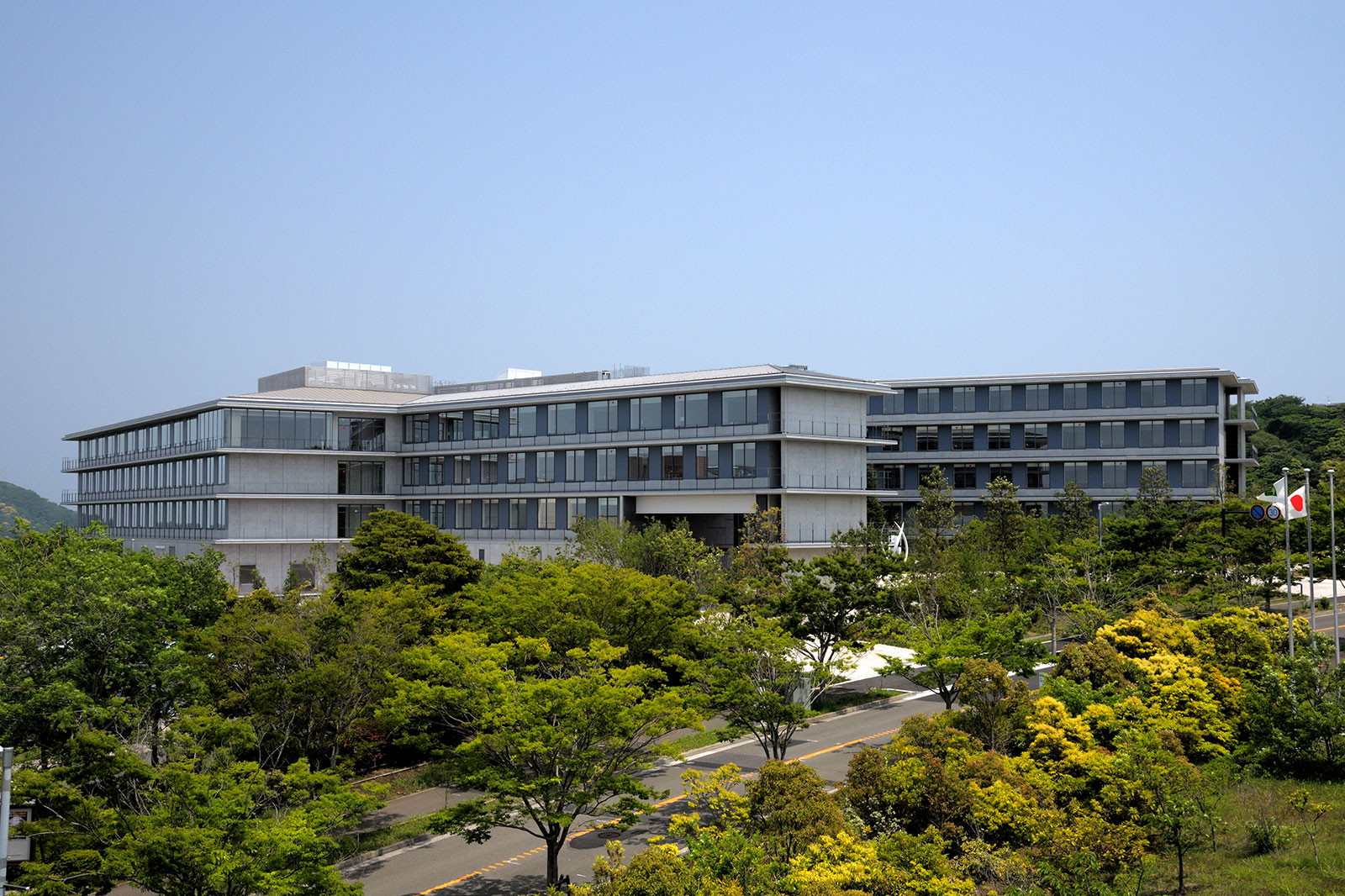 Exterior view with surrounding sea of green
Atrium Lounge the center of informal communication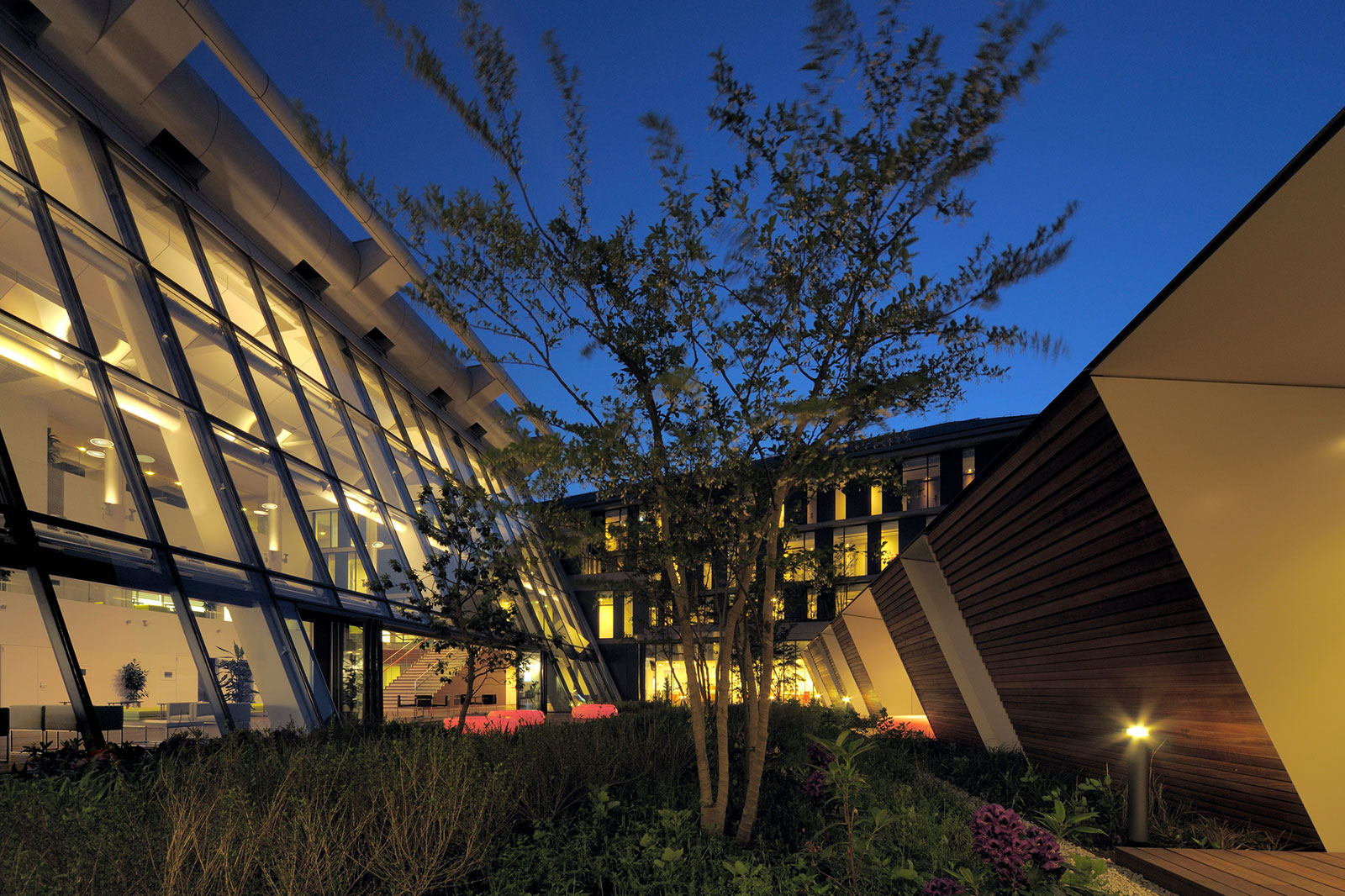 Patio connecting to Atrium Lounge (Evening view)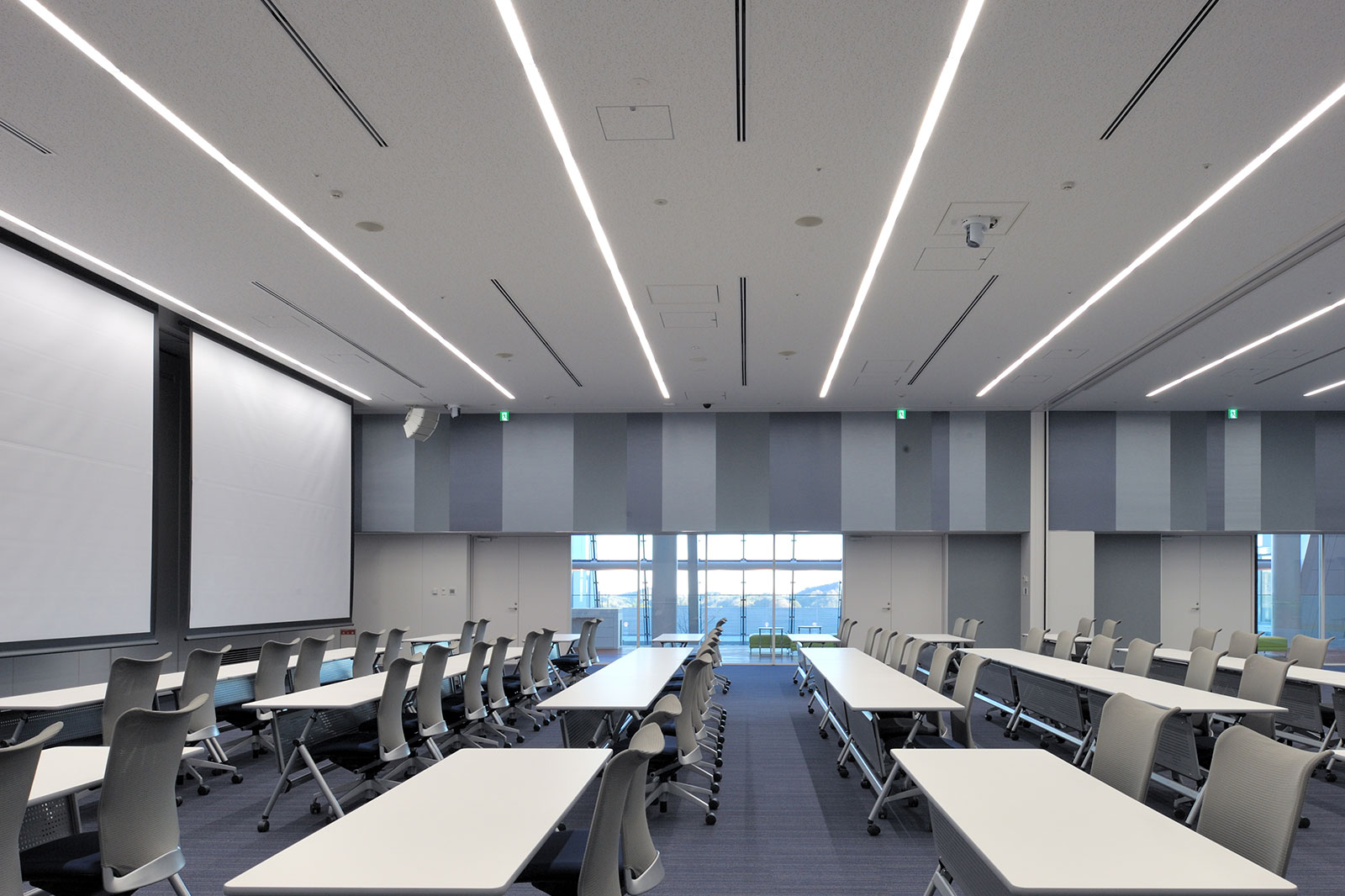 Expansive vistas are drawn inside to the Seminar Rooms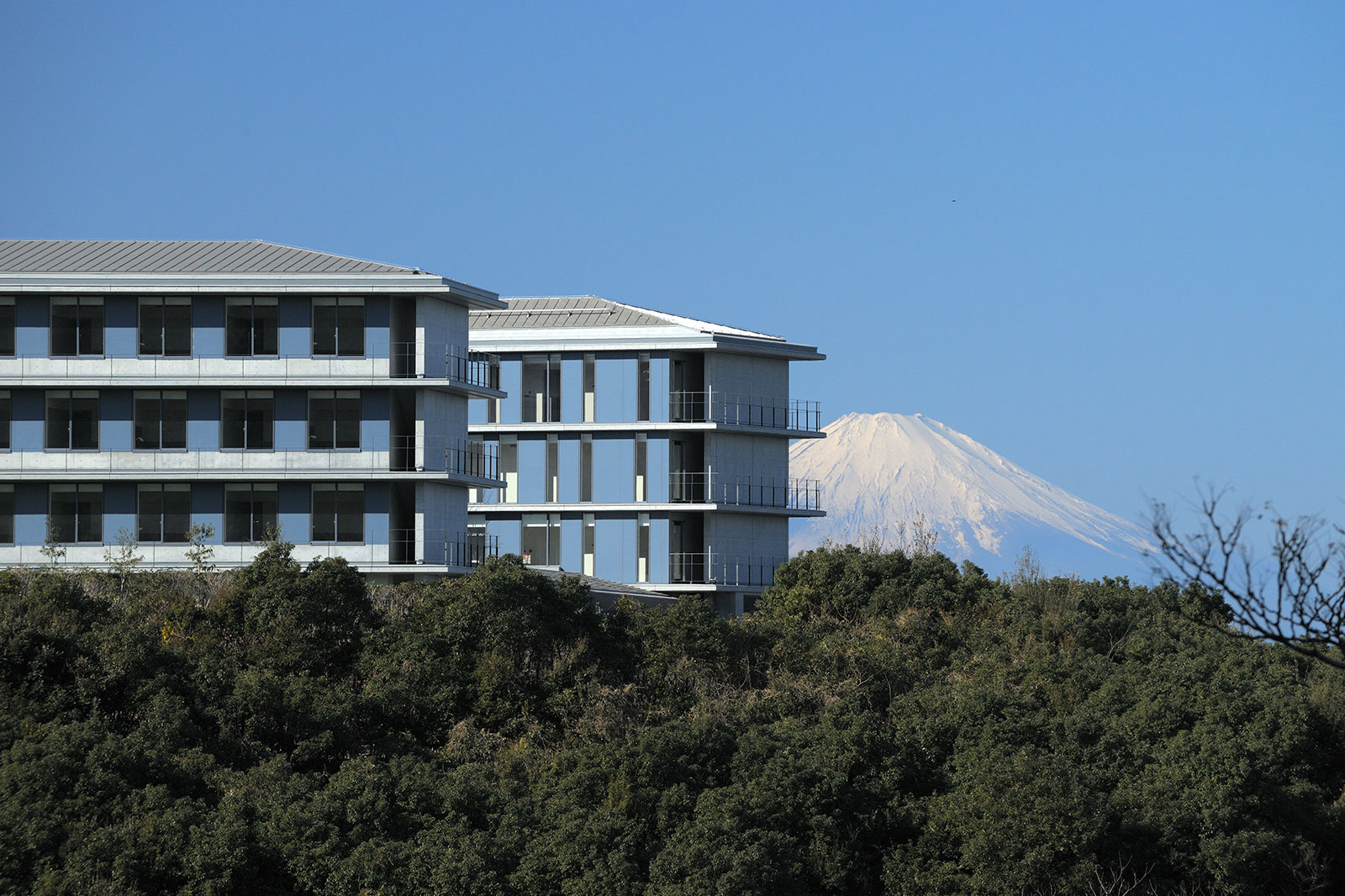 NEXUS HAYAMA and Mount Fuji
Concept
Located within Shonan International Village, facing Enoshima and Mount Fuji to the west, Yokosuka Bay to the east and surrounded by luxuriant greenery, NEXUS HAYAMA is the multi-purpose stay oriented facility for Daiichi Sankyo、the global pharmaceutical firm.
The brief required the maximal utilization of the well-endowed site to provide functional spaces for long stay training programs and a wide variety of conferences and meetings.
The building was sited to spread the Guest Room wings east-west to conform to the contours of the site with the Seminar wing placed in between. The form was kept low so as not to disturb views of neighboring houses and avoid intimidation while maintaining great views of Mount Fuji or Yokosuka Bay from all Guest Rooms.

The Atrium Lounge placed at the center of the facility is a stepped lounging area over three levels in front of the seminar rooms, providing a common space that promotes informal communications between participants.
The Lounge is an innovative multi-level semi-exterior space for informal communications, mixing people and refreshing stimulus from its natural environment such as the diffuse sunlight from skylights similar to the dancing light under trees, expansive views out to the Miura Alps to the north, the spatially continuous outdoor Patios and roof gardens.

Informal spaces centered on the Atrium are placed in appropriate locations throughout the facility allowing a smooth and gradual transition from tense On spaces (seminar rooms) to relaxed Off spaces, such as the guest rooms combining expansive views with privacy, lounges on each floor for informal communications, cafeteria with an outdoor terrace and a large common bath, in order to accommodate long stays,

A variety of environmental technologies are employed such as the skylight louvers which doubles as a solar heat collecting system to reach a target of 30% reduction of CO2 for the whole facility and has achieved a self-measured level equivalent to CASBEE-S class (2008 edition) certification.

The design blends into and becomes one with the beautiful vistas and abundant natural environment of Hayama.
Facts
Project Name
NEXUS HAYAMA(Daiichi Sankyo)
Location
Hayama-cho, Kanagawa, Japan
Awards
2014 Sustainable Architecture Award
2013 JIA Environmental Architecture Award
2013 Kanagawa global environment Award
2013 the Society of Heating, Air-Conditioning and Sanitary Engineers of Japan Award
2012 Good Lighting Award