News 2016年
Won the 1st Prize of "SKS Block Urban Redevelopment International Design Competition for Hòutān Star Project (City Life•Shanghai)".
This urban renewal project is aimed to create a brand new urban area after the relocation of "Houtan New Central District (about 41ha), located 7 kilometers south of "Liujiazui District", along the mother river of Shanghai – Huan Pu Jiang. The site is also close to the former site of Shanghai Expo 2010 and Qiantan District, where new urban development had rapidly progressed.
NIHON SEKKEI proposed a multi-complexed urban design according to Shanghai City's policy: "A City of Next Generation, where people can access within fifteen minutes walk to all facilities of Residence, Work space, and Amusement". The proposal was designed to realize a "Transit Oriented Development", which contains a system by which all human activities can be deployed in the whole area through the network of underground space connected to the subway, pedestrian deck system, surrounding greenery and the river.
The proposal was highly evaluated and NIHON SEKKEI won 1st prize. (November, 2016)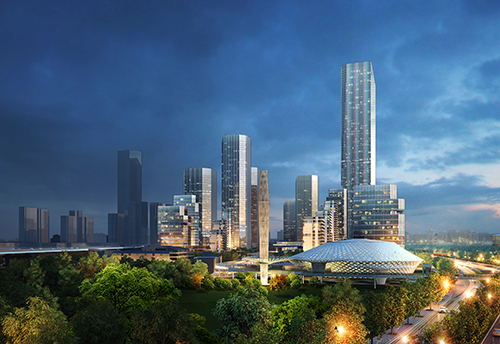 Project Plan